PLEASE NOTE: THE EVENT HAS BEEN RESCHEDULED FOR OCTOBER!
Save the Date! April 26th, 2020, is the next "All Hobbies Swap Meet"!!
Hosted by the Wine Country Flyers and Jake's Performance Hobbies, see the flyer below for more information.
Spread the word to all your RC family and friends. All Hobbies welcome to buy, sell and swap.
2020 Swap info:
Swapper/Modeler: Tables are $15 reserved, $20 day of the swap.
Vendor/Dealer: $25 per table. (Vendor/Dealer is someone who does hobby buying and selling as part of a business.)
Table limit: Up to 3 tables per seller. Chairs provided free of charge.
To reserve tables contact Jake at Jake's Performance Hobbies: 707-586-3375 or [email protected] For 2020, reserved tables will need to be prepaid. Sellers can pay at the hobby shop, or on-line thru paypal.
Buyers Entry: $3.00 per person. (kids under 12 and under are free)
Parking: Last year the parking was fantastic! This year we have half the parking lot in the contract, so parking will be awesome again. Both sellers and buyers will enjoy free parking on the west side of the Vet's Hall.
The Swap officially opens at 8AM.
Set-up for sellers will begin at 7:30AM.
Please, there is to be no early bird selling, or parking lot sales. If this happens, both parties will be asked to leave.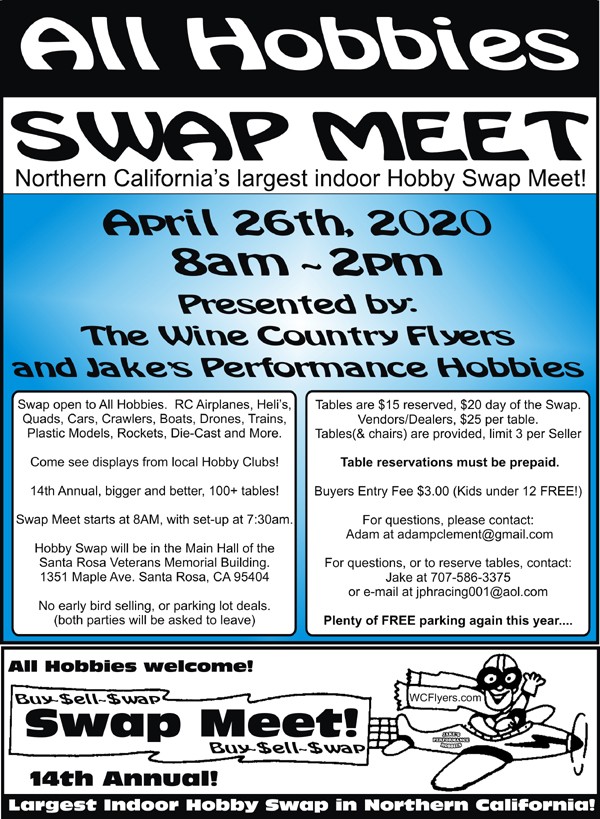 Photos from 2016! Last year, 2018, sold all the tables! 100+ tables of hobby deals!